Introducing the ELEGOO MARS 4 DLP Resin 3D Printer, a cutting-edge device that combines advanced technology with exceptional performance.
This brand-new DLP 3D printer employs Texas Instruments (TI) DLP technology, ensuring precise and uniform projection of the 405nm beam onto the resin tank.
With up to 95% light uniformity and tempered glass replacing traditional LCD screens, you can expect reduced light diffusion and stray light interference, resulting in smoother and more delicate model surfaces.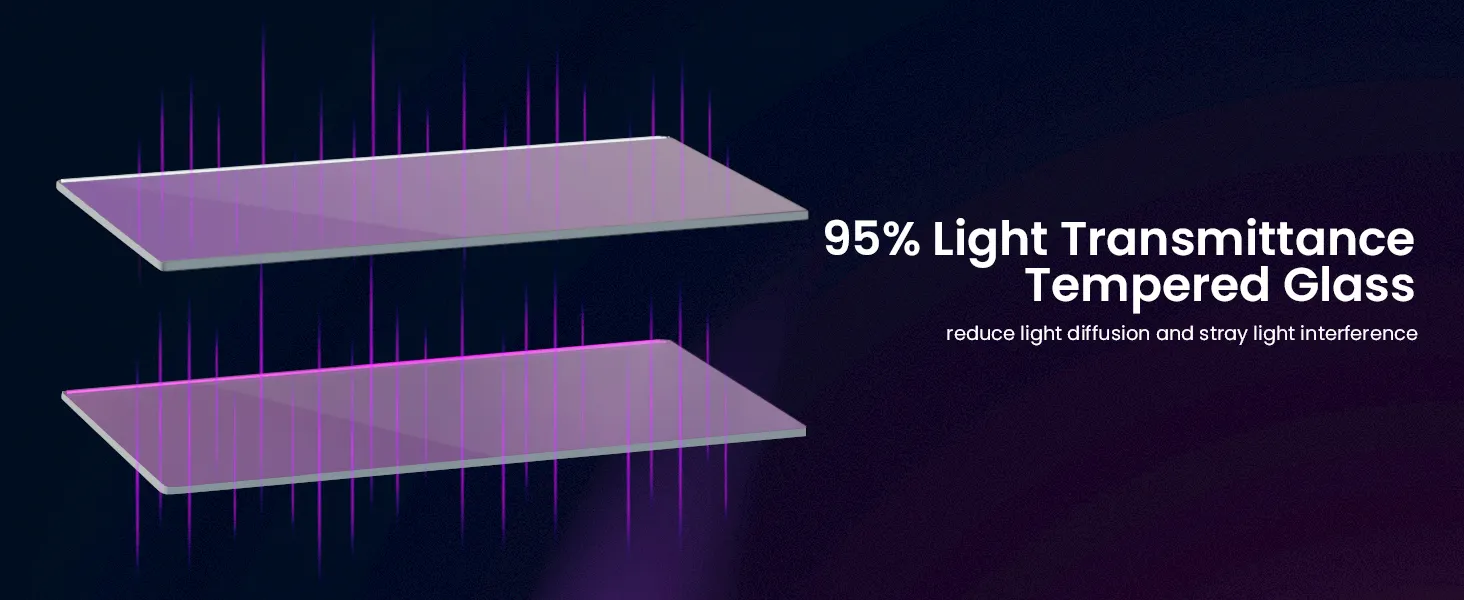 One standout feature of the ELEGOO MARS 4 DLP Resin 3D Printer is its impressive lifespan. The DLP projector boasts a remarkable service life of over 20,000 hours, which is ten times longer than LCD screens commonly found in other printers. This longevity saves you valuable maintenance costs associated with screen replacements, allowing you to focus on your creativity without worrying about frequent upkeep.
Better Printing Experience
Not only is the ELEGOO MARS 4 DLP Resin 3D Printer efficient in terms of lifespan, but it is also energy-saving and eco-friendly. Operating at just 12W, it consumes approximately 1/7th of the energy compared to LCD printers. The lower power consumption not only helps reduce your environmental footprint but also eliminates the need for a cooling fan. As a result, the printer operates at an ultra-quiet noise level below 48 dB, ensuring a peaceful and undisturbed printing experience.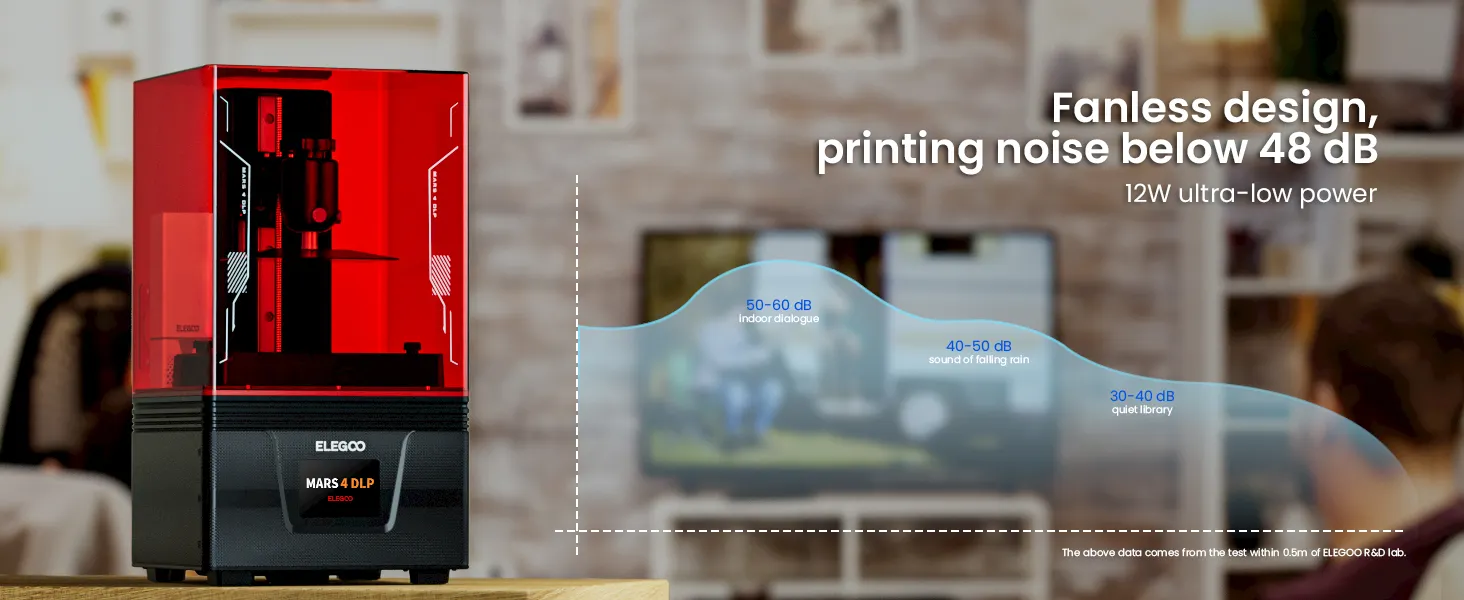 Designed for Stability
To enhance stability during the printing process, the ELEGOO MARS 4 DLP Resin 3D Printer features a more robust Z-axis linear rail. By thickening it from 15mm to 20mm, the printer significantly reduces vibration amplitude and minimizes layer patterns on printed models, resulting in superior final print results. The sandblasted surface build plate further improves the printing success rate by providing strong adhesion for reliable model adhesion.
Voxeldance Tango Software
Equipped with the intelligent Voxeldance Tango Slicer, the MARS 4 DLP Resin 3D Printer offers three printing modes: static mode, dynamic mode (including smooth and high-speed mode). In dynamic mode, the slicing software dynamically adjusts the printing speed based on the cross-sectional size of the printed model, optimizing efficiency and minimizing the impact of release forces. Moreover, the ELEGOO MARS 4 DLP Resin 3D Printer supports the open-source GOO slicing format, ensuring compatibility with various slicing software without restrictions.
Maintaining a purified printing environment is essential, and ELEGOO has you covered. The MARS 4 DLP Resin 3D Printer comes with a USB-powered air purifier featuring built-in activated carbon. It effectively absorbs and filters resin odors, creating a refreshing and pleasant printing atmosphere. For even higher air purification capabilities, you can opt for ELEGOO's first large air purifier specifically designed for the photo curing field. This larger model, measuring 210mm x 247mm x 410mm, can remove up to 95% of volatile organic compounds (VOCs). Please note that the larger air purifier is available for separate purchase.