Experience the power of innovation with the HUAFAST HS-334 FDM 3D Printer. Engineered with precision and reliability in mind, this printer is designed to bring your creative ideas to life. With its strong stability, multi-material support, and intuitive features, it's the perfect tool for makers, hobbyists, and professionals alike.
High Stability for Flawless Prints:
Crafted with an integrated sheet metal body, smooth bearings, and rods, the HUAFAST HS-334 ensures stability throughout your printing process. The high torque stepper motor guarantees accurate and consistent movements, while the upgraded MK8 extruder delivers smooth and reliable filament flow. With its 32-bit ARM core main motherboard and A4988 motor drivers, this printer provides a robust foundation for exceptional printing performance.
Versatile Multi-Material Printing:
Unleash your creativity with the HUAFAST HS-334's extensive material compatibility. Its enclosed environment and high-temperature heating bed enable you to print with a wide range of filaments, including PLA, ABS, PETG, HIPS, TPU, RUBBER, FLEXIBLE, WOOD, and CARBON FIBER. Whether you're experimenting with flexible designs or creating durable functional prototypes, this printer has got you covered.
Filament Run Out Warning & Resume Print:
Say goodbye to wasted time and filament with the intelligent filament run-out detection system of the HUAFAST HS-334. When the filament runs out, the printer automatically pauses and emits an alert sound, allowing you to replace the filament seamlessly. Moreover, in case of a power outage or voltage spike, the printer's power supply protects it from any damage. You can resume your prints from the last layer, ensuring uninterrupted progress and minimizing material waste.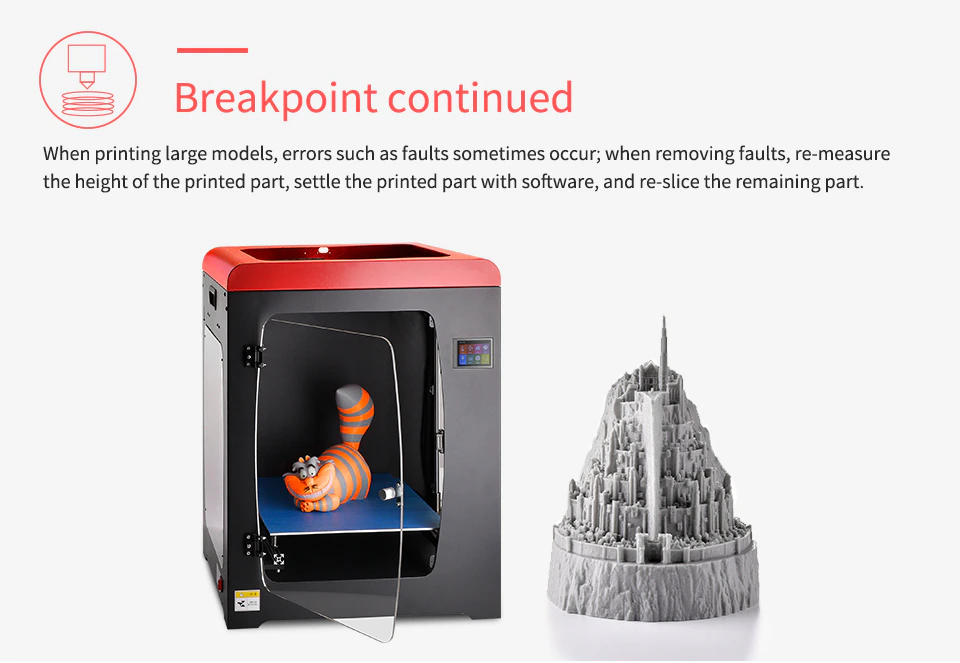 Effortless Model Removal:
Experience hassle-free print removal with the HUAFAST HS-334's magnetic bed surface. No more struggling with spatulas or razors. The magnetic print surface allows for easy detachment of models once they are completed. Simply remove the magnetic print surface from the heated bed, and your models come off effortlessly, saving you time and effort.