Experience the future of 3D printing with the ELEGOO Neptune 4 FDM 3D Printer. This advanced printer is equipped with cutting-edge features and state-of-the-art technology to take your printing to new heights. With a pre-installed Klipper firmware and a powerful ARM 64-bit 1.5G quad-core processor, the Neptune 4 achieves a remarkable printing speed of up to 500mm/s (recommended 250mm/s), allowing you to bring your ideas to life faster than ever before. The 8G RAM ensures smooth and efficient printing, providing ample storage space for your projects.
The Neptune 4 features a dual-gear direct extruder with a 5.2:1 reduction ratio, guaranteeing powerful extrusion and precise filament feeding. The copper-titanium all-metal throat pipe and unique air duct design enhance heat dissipation and minimize nozzle blockage risks. With a high-temperature nozzle capable of reaching 300°C and an extended hot end, this printer can handle a wide range of materials, including PLA, PETG, ABS, TPU, and high-temperature filaments like nylon.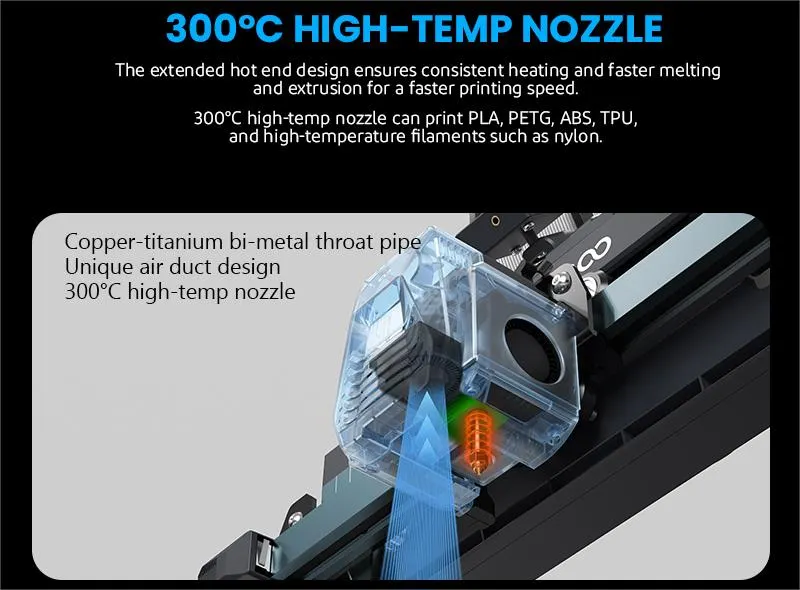 Achieving perfect prints is effortless with the Neptune 4's auto bed leveling system. Its 121 (11×11) points ensure quick and accurate leveling of the build platform, while the hand-twist knobs offer auxiliary leveling for optimal first-layer printing. The PEI magnetic platform allows for easy removal of printed models with a slight bend, ensuring a hassle-free printing experience.
Enjoy efficient and instant cooling with the Neptune 4's dual cooling system. Equipped with two thickened double-sided 4015 model cooling fans and four 4020 ball bearing blower fans, this printer provides comprehensive and effective heat dissipation, even at high printing speeds, resulting in excellent print quality.
Featuring a removable capacitive touchscreen, the Neptune 4 offers convenient operation and added flexibility. The 4.3-inch screen can be handheld or fixed on the base, and it includes a model preview function and pause printing function for enhanced usability. Additionally, the gantry's LED light strip and nozzle LED light allow you to monitor the printing process in any lighting condition.
Comparision Between Neptune 3 PRO, Neptune 4 & Neptune 4 PRO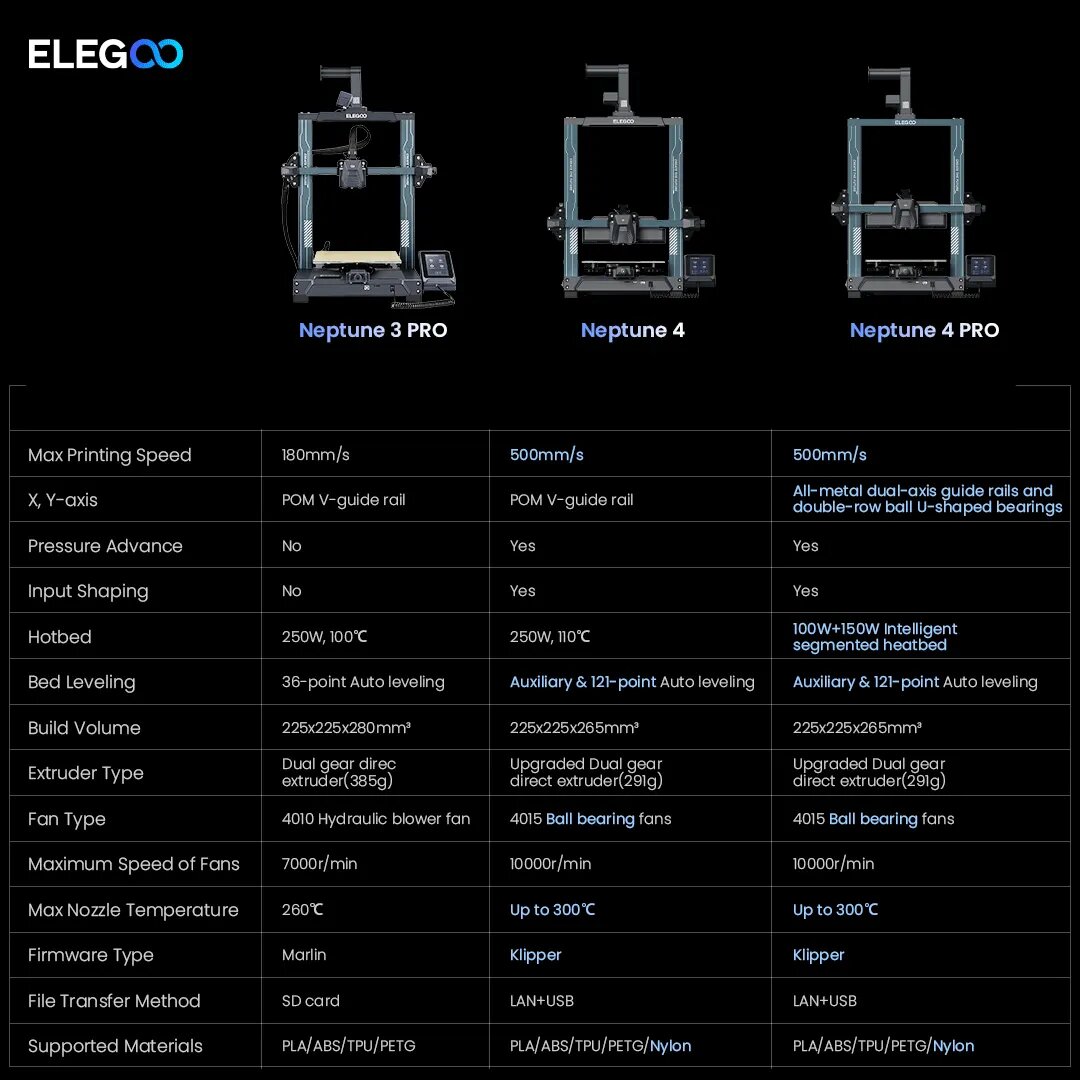 Unleash lightning-fast printing speeds and achieve precise prints with the ELEGOO Neptune 4 FDM 3D Printer. This advanced printer features auto bed leveling, a dual-gear extruder, and a 300°C high-temperature nozzle, delivering unmatched performance for professionals and enthusiasts.