Experience advanced 3D printing like never before with the ELEGOO Neptune 3 FDM 3D Printer. This cutting-edge printer is packed with features to bring your creative ideas to life with precision and ease.
The Neptune 3 incorporates a revolutionary RSG Leveling System, boasting a 16-point leveling mechanism. Equipped with a strain gauge pressure sensor on the print head, it records the distance between the nozzle and the hot bed at each point. The system's intelligent scanning detects even the smallest variations and unevenness, automatically compensating by adjusting the Z-axis height. This ensures a consistent distance between the print nozzles and the bed, resulting in flawless prints. With a larger build volume of 220x220x280mm compared to its predecessor, the Neptune 3 allows you to unleash your creativity on a grander scale.
Double-gear Extruder & PEI Magnetic Platform
Reliability is paramount, and the Neptune 3 excels in this aspect. Its double-gear metal extruder, featuring a spring elasticity adjustment and a special titanium alloy throat pipe, guarantees smooth filament feeding and precise printing. Say goodbye to frustrating nozzle clogs and interruptions. With the Neptune 3, you can enjoy uninterrupted printing sessions, bringing your designs to life with exceptional detail.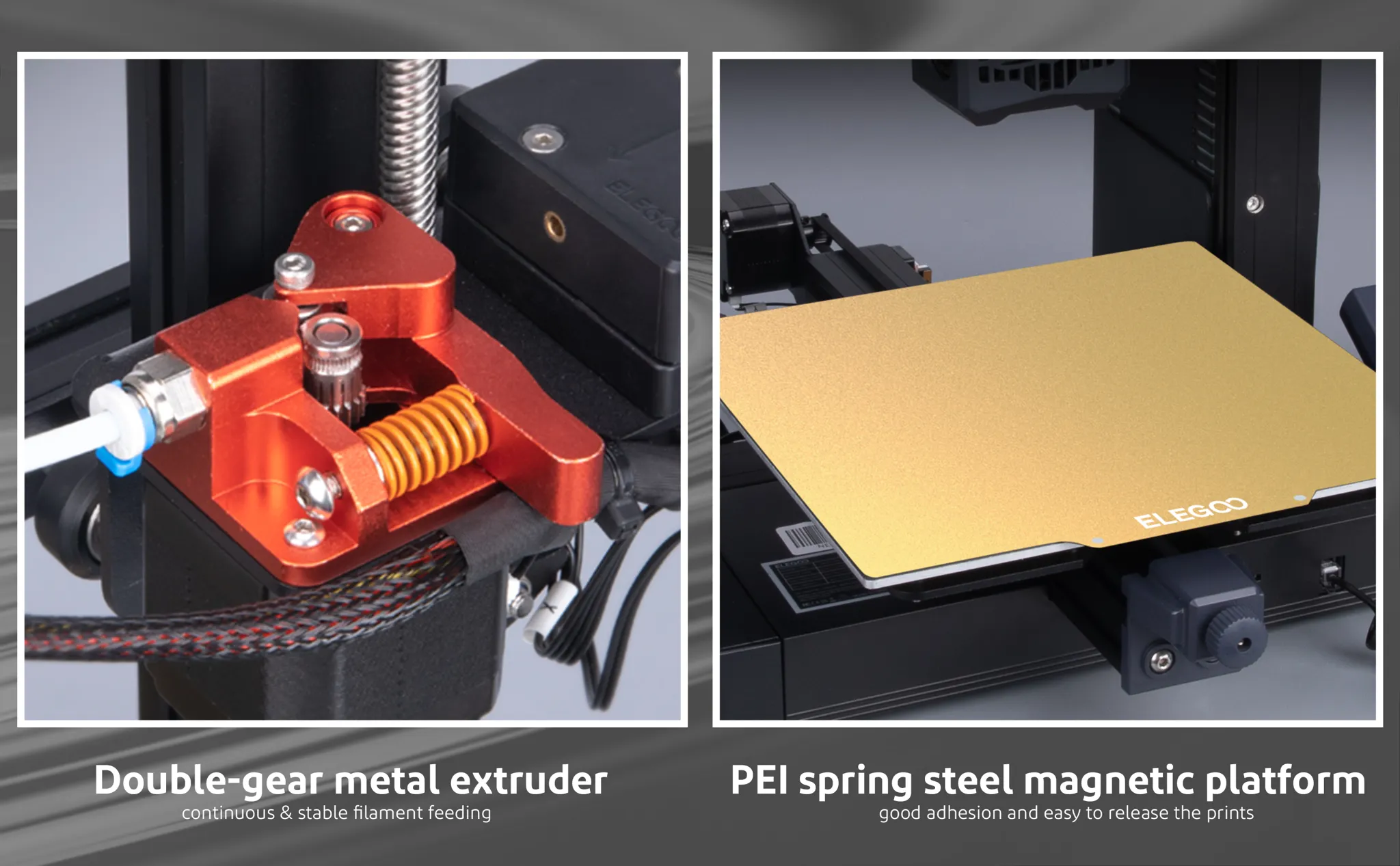 Silent operation is another highlight of the ELEGOO Neptune 3. Equipped with TMC2225 silent drivers on the XYZ axis and a TMC2209 silent driver on the E0 axis, it ensures whisper-quiet movement below 50dB. The POM V-guide roller contributes to the printer's stability and accuracy while reducing noise levels. Focus on your work without distractions, and enjoy a peaceful printing environment.
The PEI spring steel magnetic platform with a special coating is a game-changer. It offers excellent adhesion and anti-warping properties, allowing your prints to adhere firmly during the printing process. Once your prints are complete, you can effortlessly remove them by bending the steel sheet. Additionally, the filament sensor feature detects filament depletion, breaks, or clogs, automatically pausing the printing process until you load the filament and resume.
4.3″ Removable Touchscreen
Operating the Neptune 3 is a breeze, thanks to the removable 4.3-inch full-color touch screen. Whether handheld or fixed on the base, the intuitive interface and step-by-step assistance make it incredibly convenient to operate. The touchscreen supports multi-language switching, ensuring a user-friendly experience for creators worldwide.