Introducing the ELEGOO PHECDA 10W Package 1 Basic Laser Engraver & Cutter: Unmatched Precision and Flexibility
Unleash the power of precision cutting and designing projects with the ELEGOO PHECDA 10W Package 1 Basic Laser Engraver & Cutter. This advanced CNC Laser Engraving and Cutting Machine sets a new standard with its 10W Basic output power, offering unparalleled speed and accuracy.
Features:
Powerful 10W Package 1 Basic Output: The ELEGOO PHECDA laser engraver boasts an impressive 10W Package 1 Basic output power. With a focal spot size of just 0.06mm x 0.06mm, it achieves speeds of up to 25,000 mm/min without compromising on quality. Experience the perfect blend of speed, precision, and repeatability.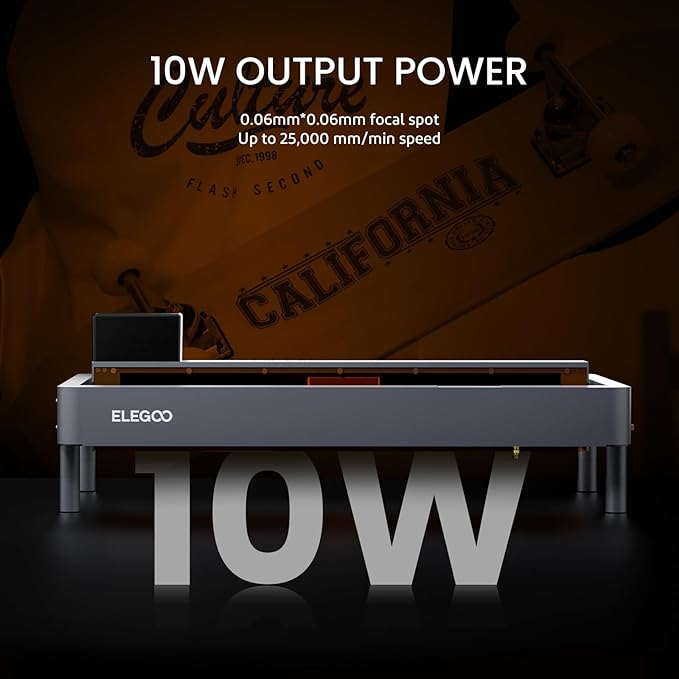 Expansive Engraving Area: With a generous 400 x 400 mm (15.75×15.75 inches) engraving area, this machine provides you with creative freedom. Take on large projects or engrave multiple pieces simultaneously. Its height-adjustable laser head and risers ensure seamless engraving on objects of varying heights.
Clean and Safe Work Environment: Equipped with a smoke exhaust filter and dual cooling fans, the laser head effectively absorbs fumes and dust, ensuring a clean and safe workspace. The detachable filter cartridge simplifies maintenance and replacement.
Versatile Operation Methods: Enjoy multiple operation methods for utmost convenience. Control the machine via a mobile App for remote WIFI operation, or utilize a USB cable or TF card for data transfer. Compatible with LightBurn and LaserGRBL software, it offers unmatched flexibility.
Innovative Magnetic Shading Plate: The translucent magnetic shading plate not only shields your eyes from harmful UV light but also serves as a laser filtering see-through cover, allowing you to observe the light spot engraving track. It also enhances the efficiency of the smoke filter, ensuring a seamless engraving experience.
Safety First: The ELEGOO PHECDA prioritizes safety with its built-in sensor that instantly halts operations and sounds an alarm if flames are detected. Additionally, it features safeguards against accidental movement, tilting, or flipping during operation.
Efficient Filtration System: The smoke exhaust filter, combined with dual cooling fans, effectively filters and exhausts fumes and dust. After engraving, the fans continue to operate for an additional minute, extending their service life while reducing noise and conserving power.
Experience the epitome of precision, speed, and cost-effectiveness with the ELEGOO PHECDA 10W Package 1 Basic Laser Engraver & Cutter. Elevate your projects with the best laser engraver in its class. Invest in excellence, invest in ELEGOO.
For inquiries and orders, contact us today. Experience the future of laser engraving!