Experience the ultimate printing precision and quality with the ELEGOO Saturn 3 Ultra 12K Printer. This advanced 3D printer features a 10-inch 12K mono LCD with an impressive resolution of 11520×5120, delivering exceptional details and sharp edges in your prints. With an XY resolution of 19×24 microns, you can create highly precise and accurate models.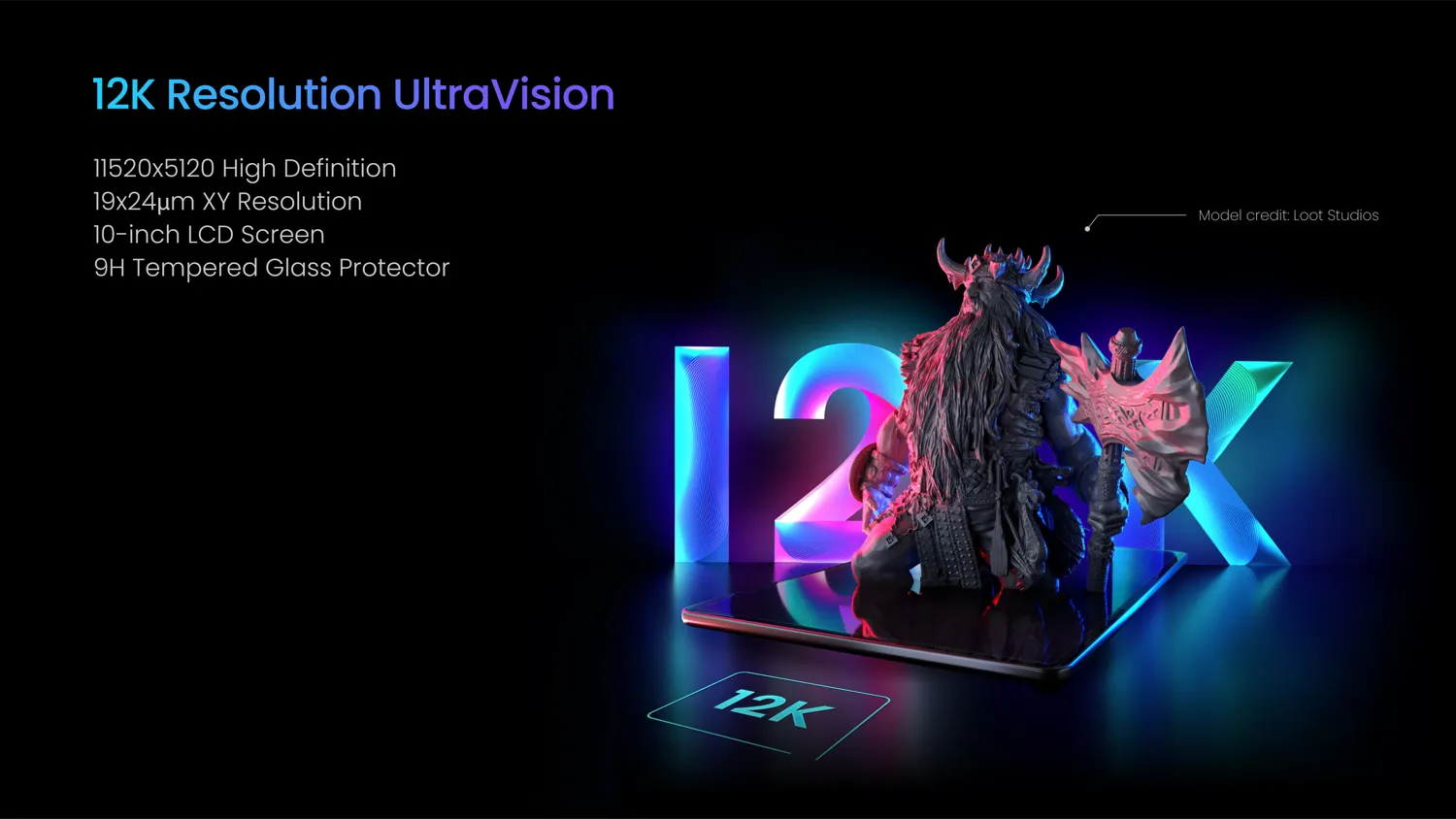 COB+Refractive Light Source
The COB+refractive light source technology employed by this printer ensures reduced light dispersion, resulting in uniform and consistent light distribution. This, in turn, produces high-quality prints with a smooth surface and outstanding dimensional accuracy.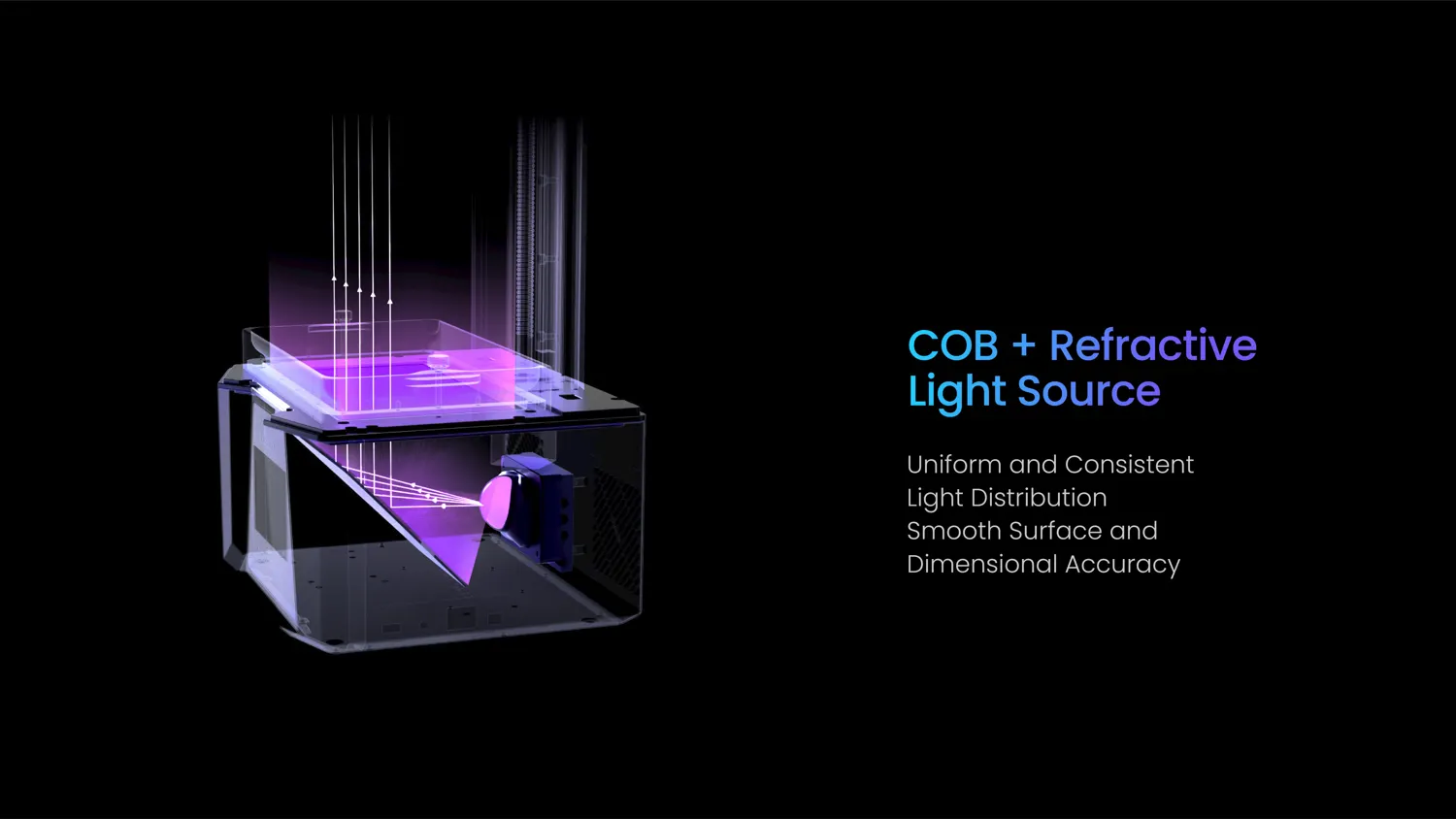 Equipped with a powerful Linux operating system and 4Gb RAM, the ELEGOO Saturn 3 Ultra offers a seamless and efficient printing experience. Enjoy stable file transfer and faster computing capabilities, enhancing your productivity and workflow.
Thanks to its wireless file transfer feature, you can conveniently transfer files via Wi-Fi at speeds of 6-10Mbps. Compatible with both 2.4G and 5G networks, this printer allows flexible file transfers from your computer or mobile device. It even comes with a detachable antenna for improved connectivity.
The ELEGOO Saturn 3 Ultra introduces the ACF release film, a new standard in release printing speed. This specialized film, combined with the upcoming ELEGOO Rapid standard resin, enables printing speeds up to 3 times faster. Experience printing at speeds of up to 150 mm/h, ensuring quicker turnaround times for your projects.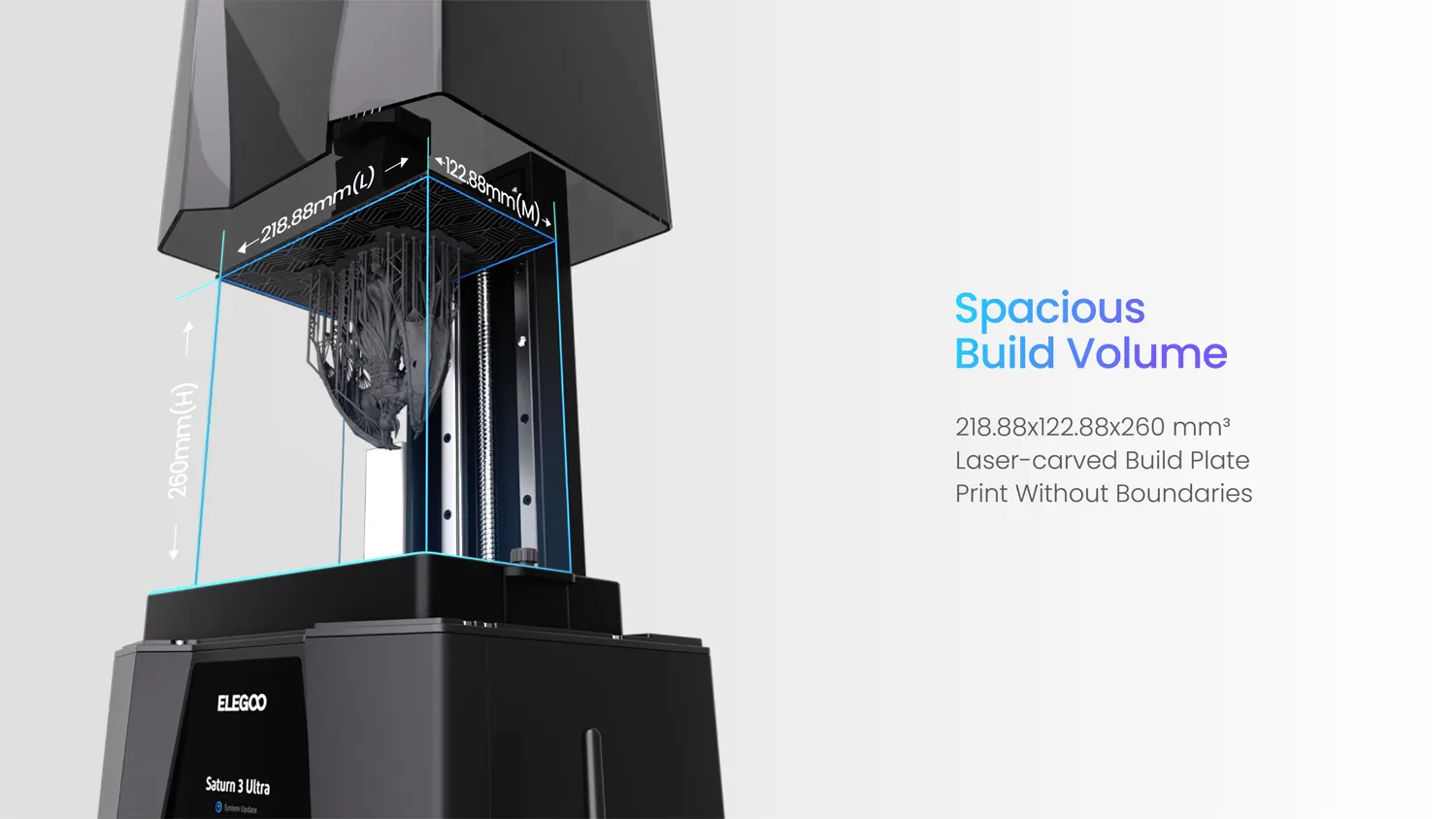 With its all-metal machine body, the Saturn 3 Ultra offers enhanced stability and durability, making it suitable for frequent use. Its sleek and modern design adds a touch of elegance to your workspace, complementing your creative environment.
Ultra-Steady Printing Performance
Benefit from the ultra-steady printing performance of the ELEGOO Saturn 3 Ultra. The integrated ball screw and dual linear guide rail in the Z-axis guarantee precise and steady movement, even at high printing speeds. This reduces layer texture on your final prints, ensuring exceptional quality.
The 4-point leveling system simplifies the calibration process and optimizes performance. With four clockwise-tightening screws, you can easily align the printer for optimal printing results. The laser-engraved build plate provides excellent adhesion, securely holding models during printing and facilitating easy removal after completion.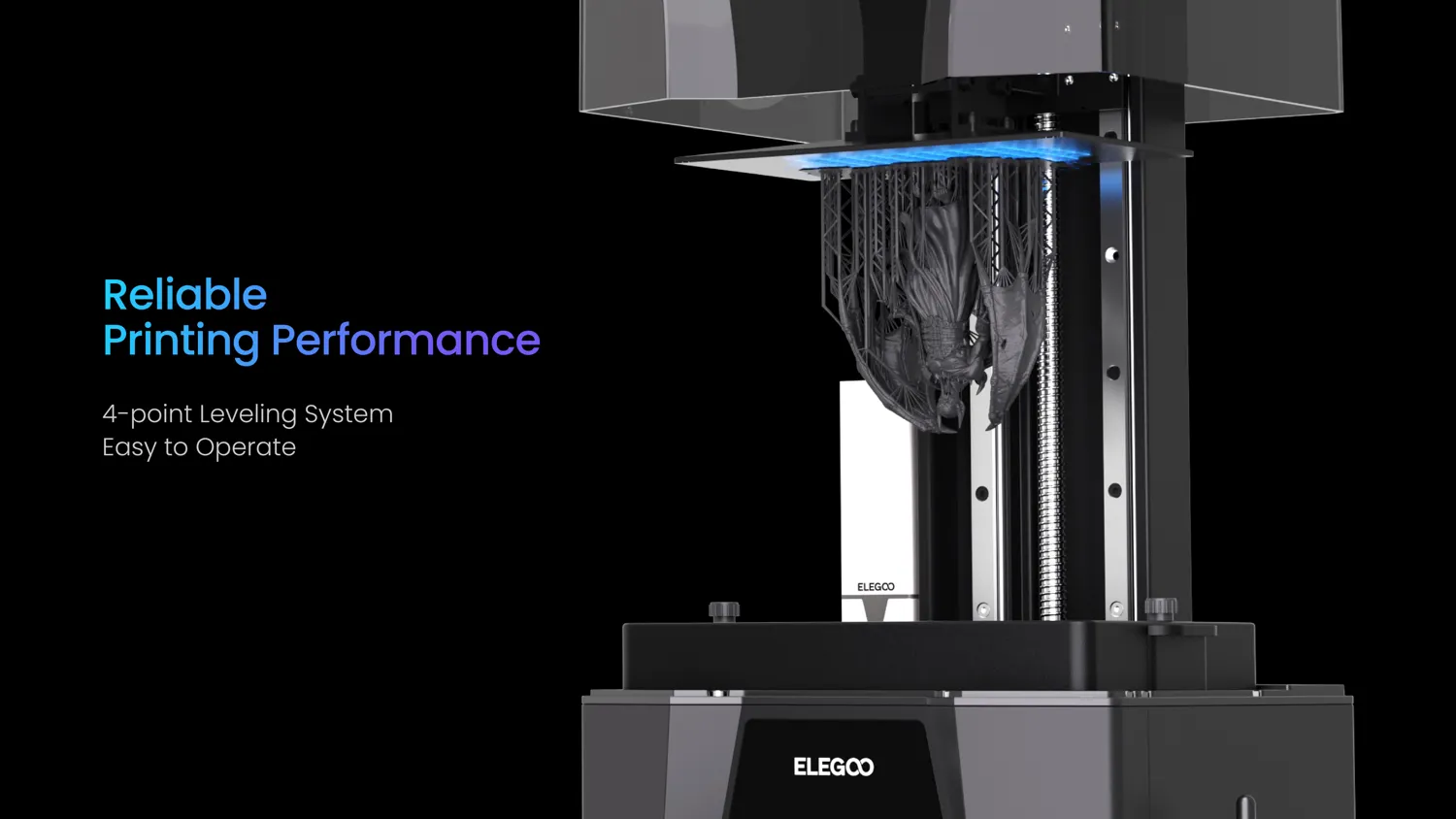 4-Inch IPS Touch Screen
Operating the ELEGOO Saturn 3 Ultra is effortless, thanks to the 4-inch HD IPS touch screen with an 800x480px resolution. The new UI interface design offers a user-friendly experience, supporting multilingualism for added convenience.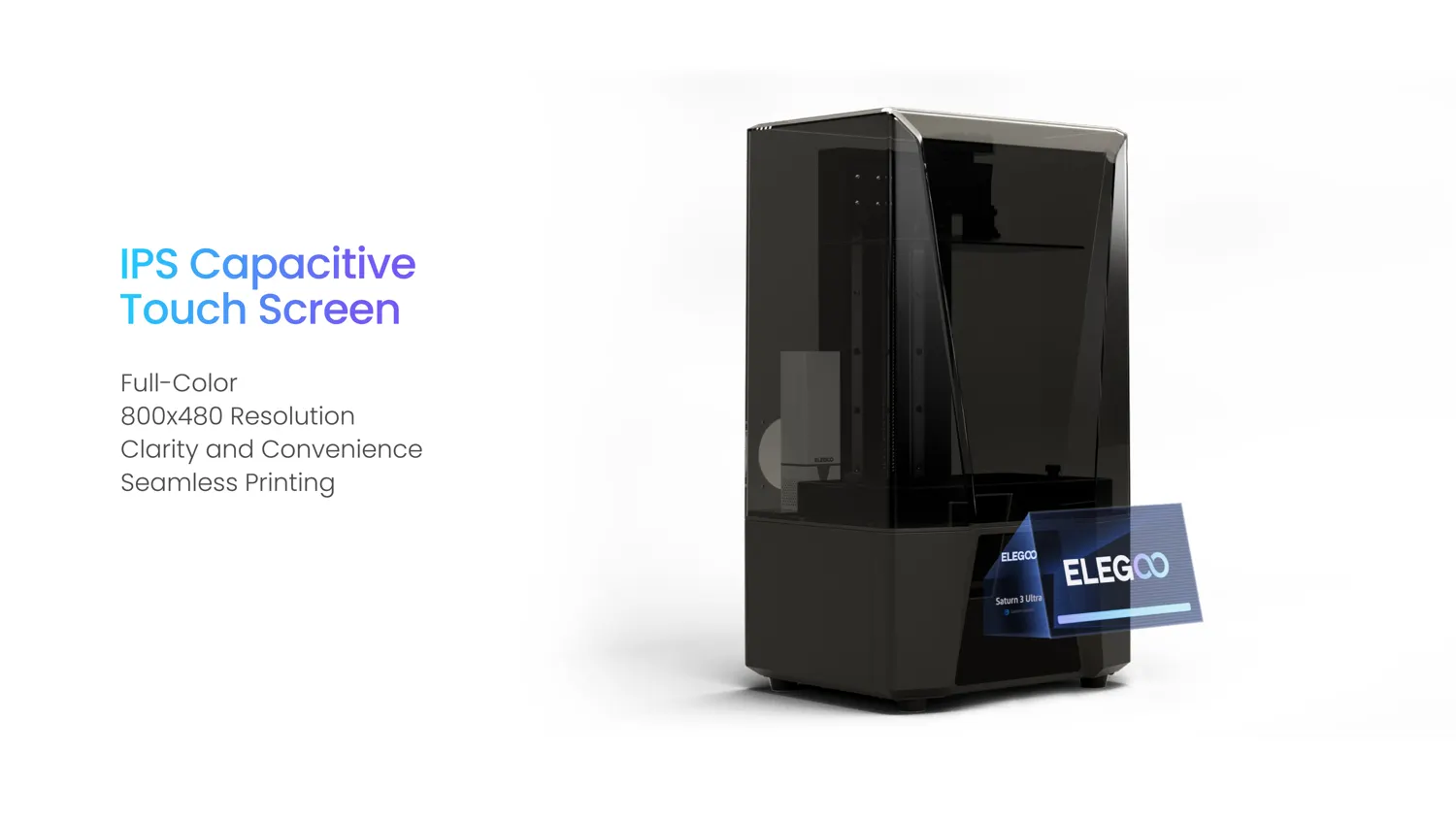 Choose the printing mode that best suits your needs with the Voxeldance Tango Slicer. The Saturn 3 Ultra offers three printing modes and supports the open-sourced GOO slice file format, providing flexibility and customization options.
Excellent Printing Experience
Enjoy an excellent printing experience with effective heat dissipation. The printer is equipped with double heat-conducting copper tubes and a larger cooling fan, ensuring optimal performance and extended service life.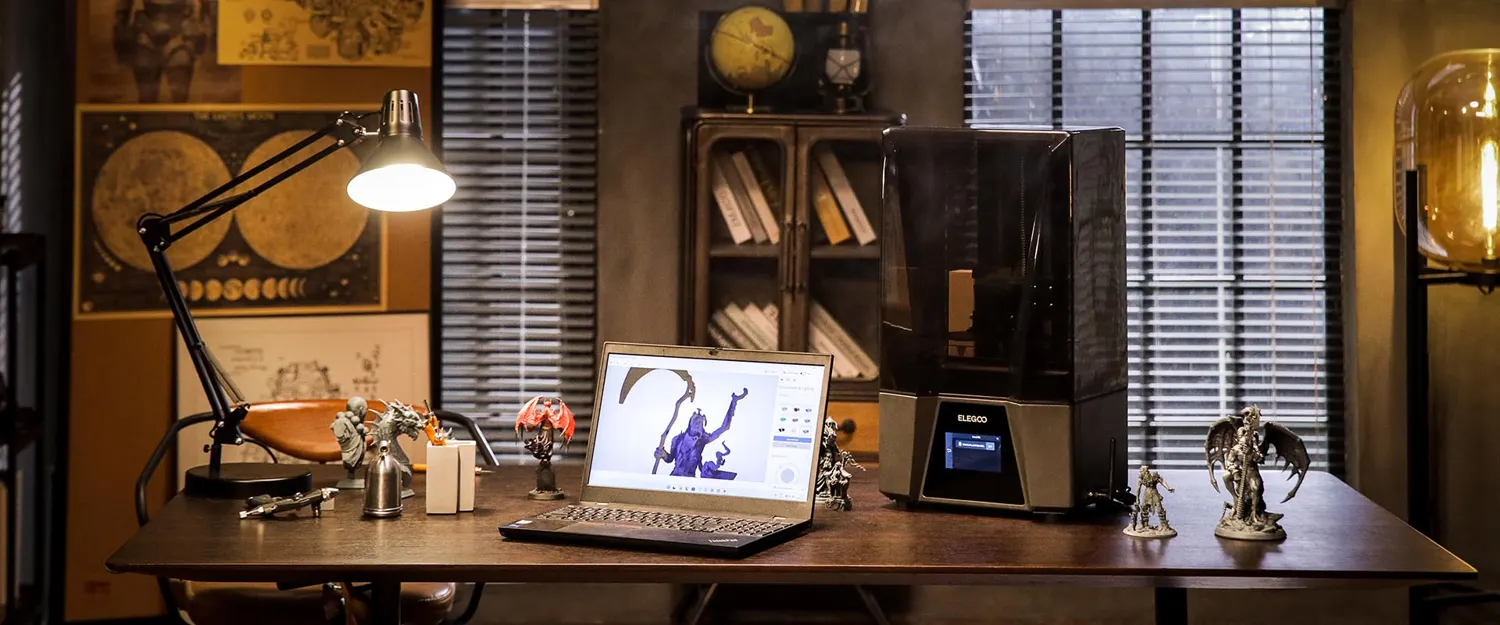 Additionally, the ELEGOO Saturn 3 Ultra features a plug-in air purifier with an activated carbon filter to remove resin odor during printing. It also includes a USB socket reserved for dual USB air purifiers, ensuring a clean and odor-free printing environment.